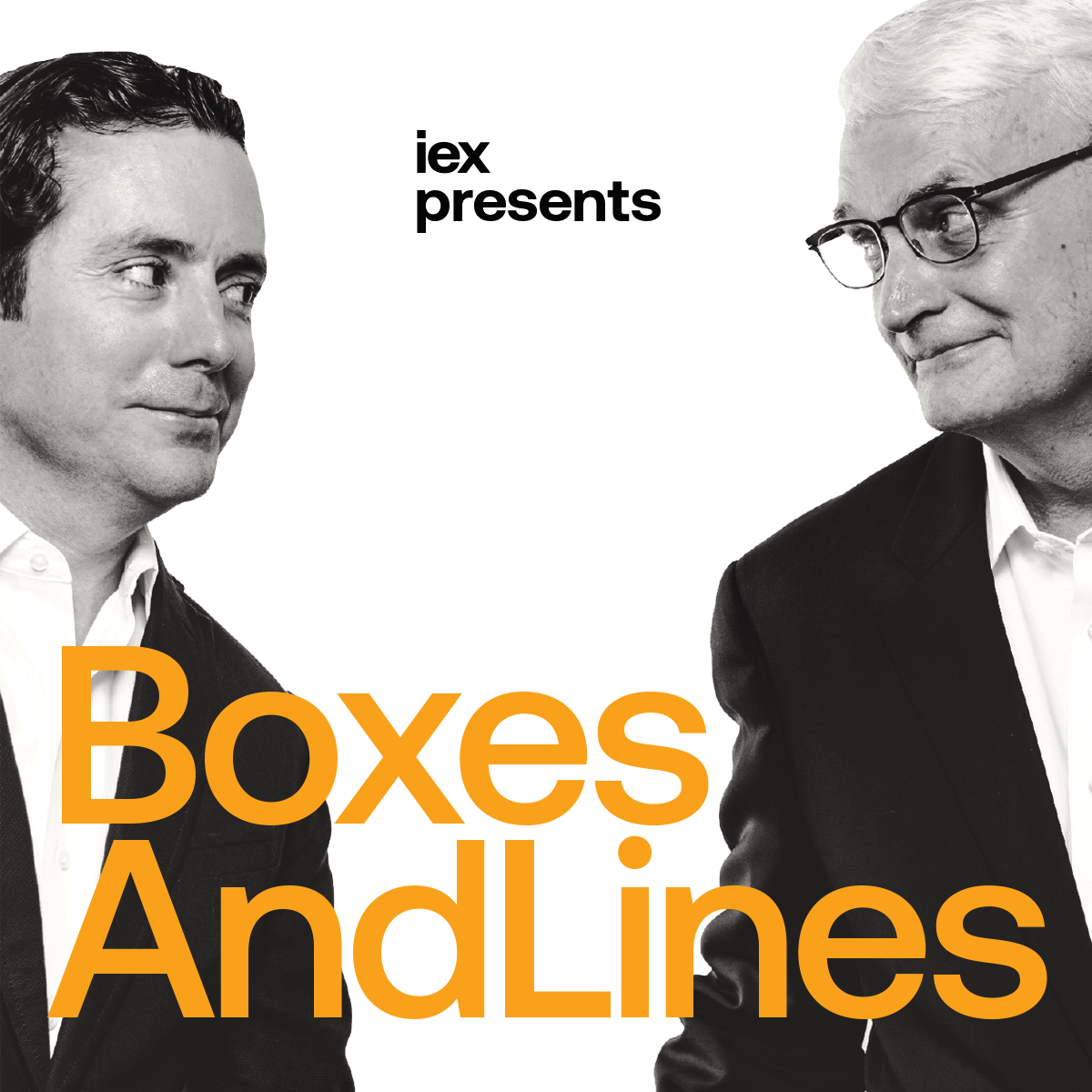 Boxes + Lines
A market structure podcast with
Ronan Ryan and John Ramsay
In today's equity markets, the devil's in the details. This is a podcast for traders, asset managers, and anyone who wants to understand the machinations, politics, and incentive structures underpinning our shared markets.
With irreverence and insight, IEX's Ronan Ryan and John "JR" Ramsay hold court on market structure and best execution with Wall Street's most savvy market practitioners, sharing their insiders' view on how Wall Street really works. You'll never trade the same way again.
Episode 49
Measuring the 15-Microsecond Dash with Professor Eric "Batch" Budish
Ronan and JR are joined by Eric Budish, the Steven G. Rothmeier Professor of Economics at the University of Chicago Booth School of Business, to break down the methodology and results in his paper "Quantifying the High-Frequency Trading 'Arms Race,'" his well-known batch auction market design, and the usefulness of putting a dollar value on vaccine capacity. Recorded July 28.
Episode 48: Benchmarks and Baseball with John Cosenza of Goldman Sachs
John Cosenza, Head of Americas Electronic Trading and Global Co-Head of Electronic Products for Goldman Sachs, joins Ronan and JR to dig into the factors shaping trading dynamics in 2021, from the erosion of displayed liquidity to fragmentation to tick sizes – and some sports statistics on the side. Recorded June 30.
Episode 47: The Legislative and Regulatory Balancing Act with U.S. Congressman Jim Himes
Congressman Jim Himes, a leading voice on the House Financial Services Committee, joins Ronan and JR for a discussion of retail trading, cybersecurity, and the 2021 DC landscape. We dig into the factors and interests at play, and discuss potential solutions, compromises, and opportunities for finding consensus in a polarized environment. Recorded June 11.
Episode 46: I Heart NYC Real Estate with Sarah Gibbons-Scheets and Spencer Levy of CBRE
In our first #BoxesAndLInesLIVE series, we took on the big questions from every New Yorker: What will post-Covid NYC look like? What's the health of the real estate market in the city? And when will we be back in the office? Experts Sarah Gibbons-Scheets and Spencer Levy from CBRE, the world's largest commercial real estate services and investment firm, joined Ronan and JR from CBRE, to weigh in on the trends they're observing, the outlook for growth, and the indicators they'll be watching most closely in the coming months. Recorded March 25.
Episode 45: Metaphysics and Philosophy with Anthony Scaramucci of SkyBridge Capital
Anthony Scaramucci, Founder of SkyBridge Capital (and host of podcast Mooch FM) joins Ronan and JR to take on the big questions of life and finance. The differences between Wall Street and DC, the inevitability of the GameStop trading phenomenon, the character of post-pandemic NYC, and of course, the SALT conference – it's all here. Recorded May 10.
Episode 44: The Big Squeeze with Danny Moses, Porter Collins, and Vinny Daniel
Nearly 14 years out from the 2008 financial crisis, the protagonists of The Big Short – Danny Moses, Porter Collins, and Vinny Daniel – joined Ronan and JR as part of our first #BoxesAndLinesLIVE event. From GameStop to crypto to short selling, it's a frank discussion of what's keeping them up at night and what they see as the biggest opportunities this year. Recorded March 23.
Episode 43: Getting It Done with Ty Gellasch of Healthy Markets
Ty Gellasch, Executive Director of Healthy Markets, takes Ronan and JR through the equities issues that he expects the Gary Gensler-led SEC to tackle over the next few years and why he believes we might see the most aggressive SEC agenda in his lifetime. Recorded March 12.
Episode 42: Bitcoin Bull, Bitcoin Bear with Lyn Alden and Mike Green
As part of our first #BoxesAndLinesLIVE event, Lyn Alden and Mike Green joined Ronan and JR for an in-depth discussion of all things Bitcoin, from the underlying purpose, to security concerns, to the regulatory environment. Whether you're a bull or a bear, the discussion is sure to leave you with food for thought and perhaps some arguments for your next barroom (or Twitter) debate. Recorded March 24.
Episode 41: The Geopolitics of Oil Markets with Helima Croft of RBC Capital Markets
Helima Croft, Managing Director and Global Head of Commodity Strategy at RBC Capital Markets, joins Ronan and JR to break down the geopolitical issues impacting oil markets today, from OPEC to the major areas of focus for the Biden administration to the dynamics of renewables (recorded March 18).
Episode 40: A Not Unprecedented Year with Spencer Mindlin of Aite Group
Aite Group Senior Analyst, Capital Markets Spencer Mindlin joins Ronan and JR to dig into the market structure topics shaping up to take the spotlight in 2021 from short selling to settlement cycles to the shrinking universe of private companies.
Episode 39: Minimum Quantity with Tori Dewey and Sean Spector of IEX Exchange
IEX's very own Sean Spector and Tori Dewey join Ronan and JR to debunk the conventional wisdom of minimum quantity with cold, hard data. Tune in to see Ronan and JR field a pop quiz on odd lots and stay for the breakdown of the impact of minimum quantity on adverse selection, information leakage, and opportunity cost. Want more on min quant? Check on Tori and Sean's full blog series here.
Episode 38: Crypto Intro, with Frank Chaparro of The Block
Frank Chaparro, Director of News at The Block, stops by to school Ronan and JR on the latest topics in crypto and digital assets, including the maturation of Bitcoin, institutional adoption of cryptocurrencies, the regulatory outlook, and comparisons to "traditional markets."
Episode 37: The Future of Wall Street Culture, with Occupy A Job on Wall Street
The anonymous protagonist of the "Occupy a Job on Wall Street" stories and podcast joins Ronan and JR to discuss his career beginnings, how Wall Street has transformed over the years, and his predictions for the future of trading, automation, and more (recorded January 12).
Episode 36: Macroeconomic Policy Under the Biden Administration, with Henrietta Treyz of Veda Partners
Henrietta Treyz, Managing Partner & Director of Economic Policy at Veda Partners, joins Ronan and JR to discuss the outlook for macroeconomic policy, legislation, buybacks, tariffs, and more in the Biden administration. Primary recording December 22, addendum recorded January 11.
Episode 35 BONUS: Doug Clark of Credit Suisse on his STA National Interview with Brett Redfearn
Before the SEC announced he was stepping down as the Trading and Markets Director by the end of 2020, Brett Redfearn sat down (virtually) with Credit Suisse Managing Director and Head of Americas Market Structure Doug Clark at STA National. Doug joins Ronan and JR to break down that interview and Brett's biggest accomplishments in the role (recorded October 14).
Episode 34: 2021 Regulatory Predictions with Chris Ekimoff and Kurt Wolfe of the PLI inSecurities Podcast
inSecurities podcast co-hosts Chris Ekimoff, Financial Investigations & Disputes Southeast Region Leader at RSM US LLP, and Kurt Wolfe, Regulatory Investigations & Enforcement Attorney at Troutman Pepper, join Ronan and JR to discuss potential areas of focus for the SEC in the Biden administration, including enforcement, buybacks, ESG – and of course, who might be sitting in the big chair at the SEC (recorded November 30).
Additionally, for more information or to donate to the nonprofits mentioned on the episode, please visit the Network for Victim Recovery of DC (nvrdc.org) and La Cocina VA (lacocinava.org).
Episode 33 BONUS: JR Joins the PLI inSecurities Podcast
Check out our rebroadcast of this episode of PLI's inSecurities podcast, in which hosts Chris Ekimoff and Kurt Wolfe chatted with our own JR and Dan Eisemann of MFS about innovation in equity market structure and the nuances of algorithmic and high-frequency trading.
Find more episodes of the inSecurities podcast and subscribe at pli.edu/insecurities.
Episode 32 BONUS: Wall Street Culture with Arbitrage Andy
Arbitrage Andy continues the finmeme education of Ronan and JR, covering deal sleds, the fascination with notorious figures in finance, and the inspiration behind his pseudonym.
Episode 31: Democratizing Fintech, with Mazy Dar of OpenFin and Tim Baker of IEX Cloud
Mazy Dar, Co-Founder and CEO of OpenFin, joins Ronan, JR, and Tim Baker of IEX Cloud to discuss modernizing the desktop experience in finance, the new IEX Cloud Gateway app, and what it means to democratize app distribution.
Episode 30: When the Buyside Outsources, with Dave Dalzell and Lance Meyerowich of Dalzell Trading, Brian Moran of FLX Distribution
David Dalzell, CEO and Founder of Dalzell Trading, Lance Meyerowich, Chief Revenue Officer of Dalzell Trading, and Brian Moran, CEO and Founder of FLX Distribution, join Ronan and JR to talk about the reasons buyside firms consider outsourcing aspects of their trading and distribution functions, how COVID is forcing everyone to try an "outsourced" model, and the keys to successful partnership.
Episode 29 BONUS: Volatility and the Election with Mike Green of Logica Capital (Live Recording)
On the afternoon of Election Day, November 3, Mike Green, Portfolio Manager and Chief Strategist at Logica Capital joined us for a live discussion about the growth of passive investing and what it means for the heterogeneity of the market and volatility.
Episode 28: Enduring Trading Topics with Heidi Fischer of Instinet and Jenny Hadiaris of Cowen and Company
Heidi Fischer, Co-Head of Execution Services at Instinet, and Jenny Hadiaris, Global Head of Market Structure and Head of U.S. Electronic Trading Coverage at Cowen and Company, join Ronan and JR to discuss the topics that keep coming back, from inaccessible liquidity to the order protection rule, as well as the fierce, supportive community of women on Wall Street (recorded October 15).
Episode 27: The State of Displayed Liquidity, with Adam Inzirillo of Cboe
Adam Inzirillo, Head of North American Equities at Cboe, joins Ronan and JR to talk about the state of displayed liquidity, the challenges and benefits of remote work, and why being innovative as an exchange matters (recorded October 6).
Episode 26: The Fleeing Liquidity Chicken with Jared Dillian of the Daily Dirtnap
Jared Dillian, Editor of The Daily Dirtnap, ​joins Ronan and JR to talk about his days on Wall Street, fractional shares, liquidity trends, and his syndicated radio show.
Episode 25: The Invention of the VWAP with James Elkins of Golob Partners
James Elkins, Founding Partner of Golob Partners and Adjunct Professor at Arizona State University's W.P. Carey School of Business, joins Ronan and JR to discuss the evolution of the VWAP (Volume Weighted Average Price) benchmark and his experience over a 50+ year career in institutional trading and measurement.
Episode 24: Financing a Sustainable Future with Achim Steiner of the UNDP
Achim Steiner, the Administrator of the United Nations Development Programme (UNDP), joins Ronan and JR for an in-depth conversation about development economics, the meaning of true global sustainability, and how IEX got involved in a task force on digital financing of the UN Sustainable Development Goals.
Episode 23: Market Regulation with Scott Bauguess of the University of Texas
Scott Bauguess, Director of the Salem Center Program on Financial Market Regulation at the University of Texas, ​joins Ronan and JR to talk market regulation, his time at the SEC's Division of Economic and Risk Analysis (DERA), and the possible long-term effects of COVID-19 on financial markets.
Episode 22: Market Making with Bryan Christian of Old Mission Capital
Bryan Christian, Managing Director, Head of Institutional Services at Old Mission Capital, joins Ronan and JR for a conversation about the evolving role of a market maker, the 30th anniversary of ETFs, and the importance of adaptability in volatile markets.
Episode 21: Investor Relations with Tim Quast of Modern IR
Tim Quast, founder and CEO of Modern IR, joins Ronan and JR for a discussion on what investor relations pros should know about market structure and stock exchanges, and the importance of market intelligence in the world of IR.
Episode 20: Market Data Wars with Benjamin Connault, Economist at IEX
Benjamin Connault, Economist at IEX, joins Ronan and JR for an in-depth discussion of market data history and the commercial, regulatory and legal developments around U.S. equities market data products and their prices over the past 20 years.
Episode 19: Hot-Button Trading Topics with David Cannizzo of Raymond James and Vlad Khandros of UBS
David Cannizzo, Managing Director, Head of Electronic Trading and Market Structure at Raymond James, and Vlad Khandros, Global Head of Market Structure & Liquidity Strategy and Global Co-Head of Principal Investments & Strategic Ventures at UBS, join Ronan and JR to talk about trading during periods of volatility, market data reform, and opening and closing auctions with a closed NYSE floor.
Episode 18: Options Trading with Boris Ilyevsky of IEX
Boris Ilyevsky, who leads market development at IEX, joins Ronan and JR to chat about the inner workings of the options market, the complexity of exchange pricing models, and floor-based trading in the options space.
Episode 17: ESG Analysis with Erika Karp, CEO of Cornerstone Capital Group
Erika Karp, Founder and CEO of Cornerstone Capital Group, chats with Ronan and JR about sustainable investing, embracing the UN's Sustainable Development Goals, and ESG analysis as an investment discipline (recorded May 18).
Episode 16: Market Structure Matters with Anna Kurzrok of BNP Paribas
Anna Kurzrok, Director and Head of U.S. Market Structure at BNP Paribas CIB, joins Ronan and JR to expand on her signature market structure research notes in a discussion around buybacks, odd lots, and the implications of the SEC's market data proposals (recorded before release of May 6 SEC orders).
Episode 15: Liquidity in the Covid-19 Crisis, with Hitesh Mittal of BestEx Research
Hitesh Mittal, Founder & CEO of BestEx Research, shares his team's findings on the state of liquidity in U.S. equities through the ongoing Covid-19 crisis, plus his thoughts on the SEC's recent order to revamp SIP (Securities Information Processors) governance. Ronan and JR are also joined this week by guest host, our own Chief Strategy Officer Eric Stockland.
Episode 14: Transparency during a Pandemic, with Meredith Cross of WilmerHale
Meredith Cross joins Ronan and JR to talk about corporate disclosures during the pandemic, how today's crises compare to the financial crisis, and how JR lightened the mood at senior staff meetings at the SEC. Former Director of the SEC's Division of Corporation Finance, Meredith Cross is currently a Partner at WilmerHale - where she advises companies on disclosure, corporate finance securities law, and corporate governance.
Episode 13: Rising to the Occasion with Elisse Walter, 30th Chair of the SEC
The Honorable Elisse Walter, 30th Chair of the U.S. Securities and Exchange Commission, knows crisis management. This week, she joins Ronan and JR to share what she's learned from a career in financial regulation - including through times of turmoil in 1987 and post-911, to the 2008 financial crash.
Episode 12: Finmeme 101 with Litquidity
Litquidity dives deep into finmeme culture with Ronan and JR, talking about the reason for his anonymity, what it's really like to be on the sellside, and a deep etymology of "whomst."
Episode 11: The Buyside Advocate, with Melissa Hinmon of Glenmede
Melissa Hinmon, Director of Equity Trading at Glenmede Investment Management, chats with Ronan and JR about outsourced trading, adding irreplaceable value at work, and why she decided to take the "not-so-friendly route."
Episode 10: Unpopular Opinions, with Sal Arnuk and Joseph Saluzzi of Themis Trading
Sal and Joe of Themis Trading share with Ronan and JR why they speak their minds in public, the biggest problems in market structure, and their deep fear of windbreakers.
Episode 9: Uncharted Territory
Ronan and JR answer your questions about how the stock market operates in times of crisis, market-wide circuit breakers, and why it doesn't make sense to shut down the market or ban short sales.
Episode 8: Exchange Operators 2020, with Bryan Harkins from Cboe Global Markets
Competitors can get along, especially over a beer. Bryan Harkins, Cboe's Head of Markets, joins Ronan and JR to chat about the Cboe Market Close, Wall Street Rides FAR, and what increased exchange competition will mean for market structure in 2020.
Episode 7: How Markets Change, with CEOs Tim Mahoney and Jonathan Clark of BIDS and Luminex
Tim and Jonathan walk through the action-packed 20+ years that led to the creation of BIDS and Luminex – two alternative trading systems that specialize in large block trading.
Episode 6: Buyside detectives, with Mett Kinak from T. Rowe Price
Ronan and JR chat with Mett Kinak about how (and why) the buyside model is changing, the great rebate debate, and why some people might really benefit from a shorter trading day.
Episode 5: Beyond The Big Short, with Danny Moses, Porter Collins, and Vinny Daniel
Ronan talks with Danny, Porter, and Vinny about what it's like being a character in a Michael Lewis book, why traders have to become detectives, and what the market should be paying attention to nearly a decade after The Big Short.
Episode 4: What the Buyside Wants, with Richard Johnson of Greenwich Associates
Best ex is in the eye of the beholder...or is it? We're breaking down Greenwich Associates' new study on how the buyside thinks about best execution, joined by Richard Johnson and our own Chief Strategy Officer Eric Stockland.
Episode 3: Losing the Plot with Doug Cifu, CEO of Virtu Financial
Doug Cifu chats with Ronan and JR about 606 reporting, the future of analytics at Virtu, and how his past as a fashion lawyer(!) informs his work.
Episode 2: Market Data Dumpster Fire
It's one of the hottest debates in market structure today: exchange market data. From how much it costs ($$$) to who has to buy it (in practice), we're digging deep on how we got here, what's changed, and the way forward.
Episode 1: Speed Bumps Are Not Created Equal
In the beginning, IEX added a speed bump to its Alternative Trading System (ATS) with the goal of protecting investors. Today, it feels like every exchange has one. What gives?
Google Play and the Google Play logo are trademarks of Google LLC. The Apple logo is a trademark of Apple Inc., registered in the U.S. and other countries.